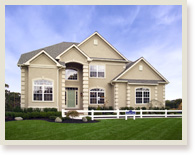 For over 30 years Fentell has been building homes for discerning buyers throughout Southern New Jersey. Our goal is to create superior homes and communities in locations of appeal. We are committed to delivering total homebuyer satisfaction from the moment our prospects walk into our sales office to the moment they step over the threshold of their new Fentell home.
A family owned and operated company, we set our standards high. We believe in building communities in locations that provide an outstanding quality of life for their residents. In order to provide what we believe is the appropriate level of attention to detail and conscientious customer service, we limit the number of new Fentell communities we build and market at any one time as well as the number of new Fentell homes that we deliver to our home buyers each month.
Click logo to view the Fentell Collection of distinctive homes.